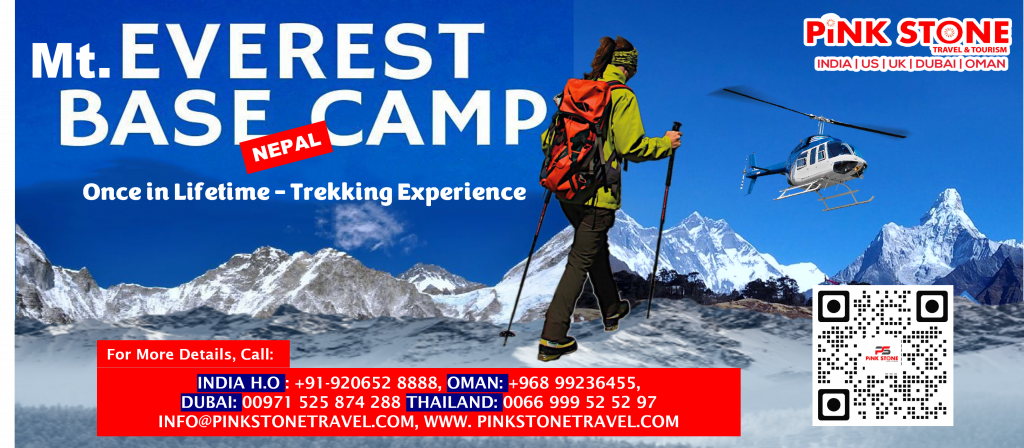 EVEREST BASE CAMP (EBC) TREKKING PACKAGE
Trekkers Dream – Mount Everest Base Camp Trekking at Nepal
Mount Everest Base Camp Trek, also known as EBC Trek, is high on the bucket list of things to do for adventurers around the globe. It's because the hike to Everest Base Camp allows you to see a magnificent close-up view of Mount Everest, the highest peak in the world, from every angle.
Everest is more than a mountain and the journey to its base camp is more than just a trek. Along a route dubbed by some as "the steps to heaven," every bend in the trail provides another photo opportunity — beautiful forests, Sherpa villages, glacial moraines, and foothills. For active adventurers not afraid to break a sweat, our full trekking support staff will bring you close to local cultures before opening a window to the top of the world. Everest Base Camp trekking will take you to around 5400 m. The tour gives you the ultimate views of many tall peaks over 8000 meters.
Pink Stone Travel and Tourism LLC is an IATA certified Travel company established in 2017, with its HQ in Muscat, Sultanate of Oman and registered offices in USA, India, Thailand and Dubai. We also with our presence having allied partner offices in United Kingdom, Turkey, Azerbaijan, Georgia, Malaysia, Singapore, Indonesia, Bosnia, Albania and few other European countries.
We are proud to provide all the travel related services such as Inbound and Out Bound Tours, Accommodation, Medical Tourism, Visa Services, Hotel, Travel Insurance.
OUR MISSION
To always be driven and passionate about servicing the travel needs of companies and individuals, through the commitment, integrity and dedication of our competent staff and trusted business partners. In pursuit of enhancing our reputation, we pride ourselves in delivering value-added services whilst creating a paradigm shift with regards to the varied travel requirements of our esteemed clientele.
OUR VALUES
At Pink Stone Travel, we offer our clients the benefit of smooth co-ordination of comprehensive travel itineraries with rapid turnaround times. Our team of experienced, highly skilled staff have not only been well trained to understand client needs and offer the best options available but also to go the extra mile and proactively cater to all their requirements however complex they may be in a systemic and timely manner.
Use of Personal Information Collected About You: Sole purpose of collection of personal information through this form is to understand your requirement, to advise eligibility, suitable package and to give you perfect experience of the journey. This personal data is collected and stored securely and will not be shared to others. Pink Stone Travel and Tourism may use your personal information to provide or offer you newsletters, promotions and featured special travel packages, as well as other marketing messages in accordance with communications preferences you have expressed.